On September 8, 2021, the 7th 21st-Century Maritime Cooperation Committee Meeting was successfully held via Zoom in Fuzhou. It was moderated by Mr. Wu Xiaojie, Director of the Foreign Affairs Office of Fuzhou Municipal People's Government and Executive Deputy Secretary General of 21st-Century Maritime Cooperation Committee (hereinafter referred to as
"
the Committee
"
). Ms. Ashok Kumar Byanju Shrestha, President of the United Cities and Local Governments Asia Pacific (UCLG ASPAC) and Municipal Association of Nepal and Mayor of Dhulikhel Municipality, Mr. Stuart Crosby, Co-President of UCLG ASPAC and President of Local Government New Zealand (LGNZ), Mr. Octavi de la Varga, Secretary General of World Association of the Major Metropolises (Metropolis), Dr. Bernadia Irawati Tjandradewi, Secretary General of UCLG ASPAC, and others attended and addressed the meeting. Also included in this online event were more than 60 representatives from over 30 member cities and organizations of UCLG ASPAC and the Committee from over 10 countries, such as Indonesia, New Zealand, Poland, Myanmar, etc.
Representatives of Fuzhou and participants from home and abroad met via Zoom
President Ashok Kumar Byanju Shrestha mentioned that since the outbreak of COVID-19 pandemic, jobs seeking, education, medical care, government services, social interactions and other activities have gone online, leading to an increasing dependence on digital technologies. It has not only brought pressure and challenges to policy makers, but demonstrated potential of digital technologies. He said that local governments need to provide conducive environment for the optimal usage of digital technologies and introduce policies for regulating digital infrastructure to improve the ability of people and firms to use digital technologies, which will more effectively bridge the digital divide for all.
Mr. Byanju, President of UCLG ASPAC, delivered the speech.
Co-President Stuart Crosby took local governments in New Zealand as examples to introduce the profound impact of digitalization on his work in the terms of government affairs transparency, public services and government services for the convenience of the people and enterprises. He noted that online meetings are more time-saving and efficient and also improve the transparency of government decision making by livestream; online service platforms ensure that government services will be more easily accessible for the people; information resources can be shared and put to better use through the libraries with online functions. These practices show that the development of digital technologies can strongly improve governance efficiency and people's quality of life, contributing to economic development and social well-being.
Mr. Crosby, Co-President of UCLG ASPAC, made the speech.
Mr. Jiang Jiang, Vice President of the Chinese People's Association for Friendship with Foreign Countries (CPAFFC) expressed his support and encouragement to the Committee through a video. He mentioned that the Committee has deepened the synergy with the Belt and Road Initiative and built a platform to carry out exchanges and cooperation in the Asia-Pacific for achieving an inclusive, shared and sustainable development. It was significant that the meeting themed on "Digitalization Contributing to Recovery and Prosperity of Cities", addressed the concerns of cities in the Asia-Pacific about applying digital technologies to promote recovery in the post COVID-19 era. He hoped that representatives of Chinese member cities could actively share their experience in using digital technologies for the epidemic prevention and control and conduct in-depth discussions with participants from Asia-Pacific cities on issues such as the development of digitalization and application of digital technologies. Digitalization will enable Asia-Pacific cities recover from the pandemic and get back on track of development.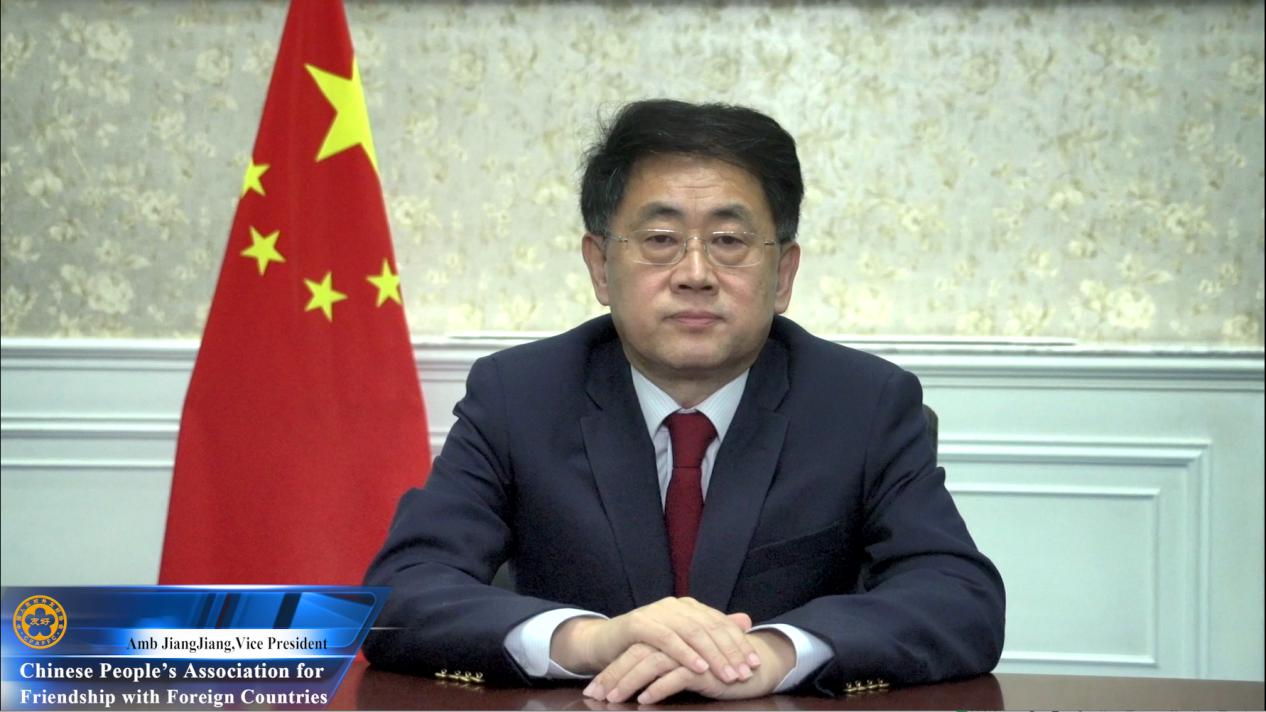 Mr. Jiang Jiang, Vice President of CPAFFC, addressed the audience.
The Secretariat of the Committee briefed on its work since the 6th Committee Meeting last year and its future work plan, as well as introduced new members and advisers of the Committee. Mr. Octavi de la Varga, Secretary General of Metropolis, and Dr. Eunwoo Kim, Representative of China Research Center of Korea Maritime Institute, gave speeches as new advisers. In the remarks of Secretary General Octavi de la Varga, metropolitan governments should pay attention to the digital gap created by digital disruption. Dr. Eunwoo Kim expressed that the digitalization of ports allows for their efficient and seamless operation even during emergency situations. As representatives of new members, Ms. Hu Bingxia, Vice President of Dalian Municipal People's Friendship with Foreign Countries, introduced strategies for marine development in Dalian, while Mr. Toe Aung, Deputy Director General of Yangon City Development Committee, expressed his hope of enhancing cooperation in the development of digital technologies.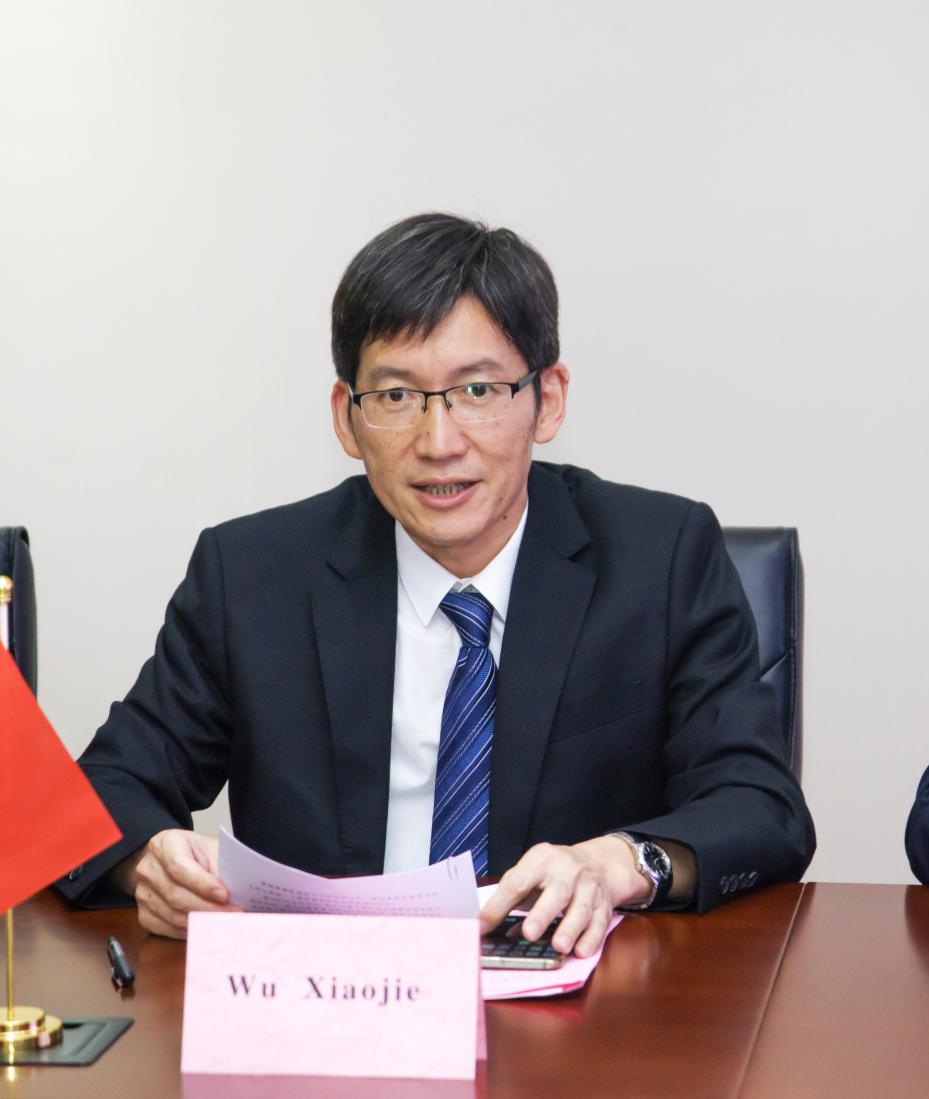 Mr. Wu Xiaojie, Director of the Foreign Affairs Office of Fuzhou Municipal People's Government and Executive Deputy Secretary General of the Committee briefed on the Committee's work.
Furthermore, representatives from Fuzhou Municipal Administration Commission of Big Data Development, Fuzhou Municipal Health Commission and Fuzhou Municipal Bureau of Natural Resources and Planning respectively shared the development of "Digital Fuzhou", the role of information systems in epidemic prevention and control and the application of digital technologies to resource planning and management. As a practitioner in the digital industry, Mr. Xiong Li, CEO of NetDragon Websoft Holdings Limited, introduced the cooperation on digital education between his enterprise and cities at home and abroad.
During the free discussion session, participants including Mayor of Kirtipur Municipality, Deputy Governor of Siem Reap City and Secretary of Koszalin presented their cities' development of digital technologies in the fields of epidemic prevention, urban development and governance.
At last, Secretary General Bernadia Irawati Tjandradewi made the closing speech. She said that the COVID-19 pandemic has brought huge challenges to the whole world. Digitalization is an inevitable choice for local governments to respond to current challenges and improve governance efficiency. Cities should seize the opportunities of digital technology development in this crisis. She hoped that the experience of digitalization shared by Fuzhou can be learned by other members and cities to launch telemedicine, distance education and other relevant projects, as well as put forward practical solutions to narrow the digital gap. All these efforts will help us gain an early victory against the pandemic and realize the recovery and prosperity of cities.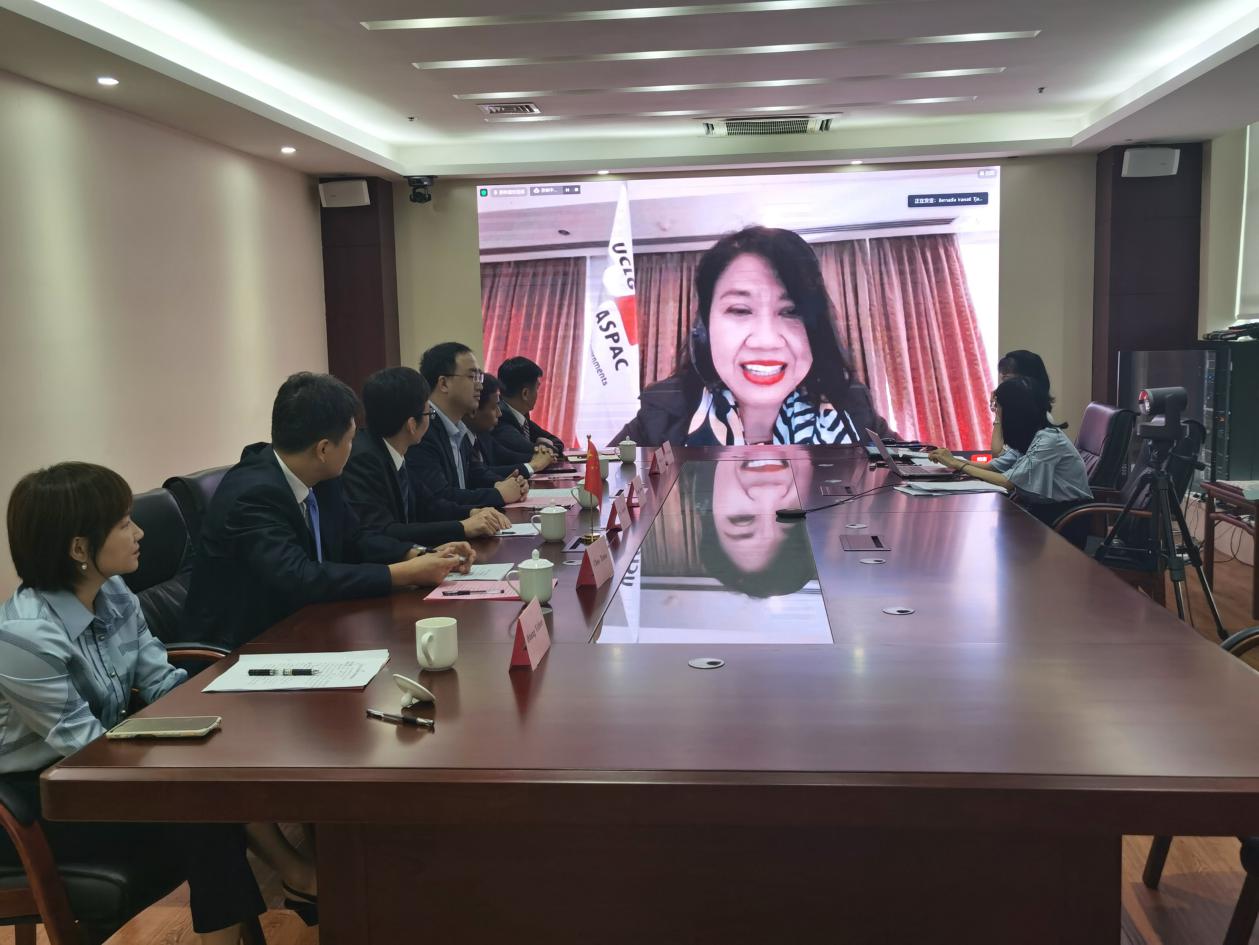 Dr. Bernadia, Secretary General of UCLG ASPAC, delivered a closing speech.
Attached please find presentation materials of the meeting. Thank you!